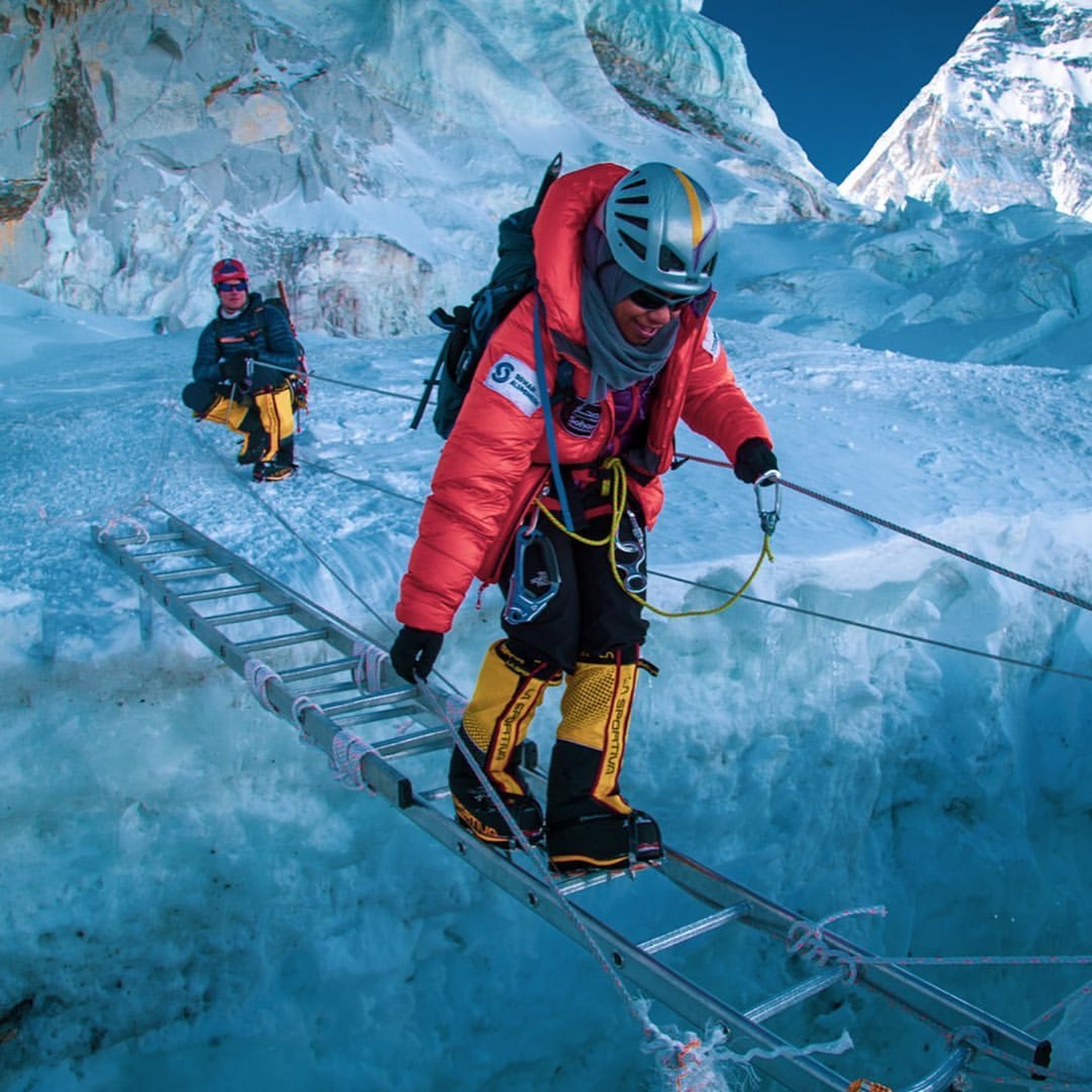 The Unforgettable Story of the First Omani Woman to Reach Everest's Summit
In the realm of dreams and determination, my story of triumph and inspiration unfolds. It is the tale of my journey, Nadhira Alharthy, an Omani woman who defied the odds and conquered the world's highest peak, Mount Everest. From secret aspirations to unforgettable encounters, my path to greatness weaves together moments of self-discovery, loss, and unwavering determination.
Yes… dreams do come true. My secret dream of climbing Everest came true two years after I first promised myself that I would pursue it. Everything changed on June 17, 2017, when I made the decision to reach the summit after meeting the first Omani man to do it, the late Khalid Al Siaby. May Allah bless his soul. His story inspired me and changed my perspective on life. I was so determined in my decision and myself. I was convinced that my commitment to training and learning as much as I could would reap its benefits. Was I a dreamer or a climber? It didn't matter. What mattered was what I had to accomplish, where I had to be, and how to get Nadhira to where she wanted to be. Two years of relentless preparation under Khalid's supervision. It was a dream I hid from everyone so no one would ruin my spirit or change how I viewed it in my heart and head. It was a beautiful secret that I kept for myself alone to announce when the time was right.
Every step toward Everest demanded unwavering dedication and mental fortitude. I embraced a rigorous training regimen that encompassed running, hiking, rock climbing, canyoning, and caving. Strengthening my body and mind became paramount as I pushed myself beyond my limits. Training the mind proved to be as challenging as training the body. But I knew that to conquer Everest, I had to cultivate unwavering resilience from within.
Revealing my Everest aspirations to my family was a daunting task. Their initial concerns and fears tested my resolve, but I remained determined to fulfill my dream. In 2019, I set off for Nepal, accompanied by an all-female Arab team. Tragically, my mentor Khalid Al Siaby passed away during my expedition, adding a deeper purpose to my climb. His memory propelled me forward, even in the face of personal loss.
On May 23, 2019, I etched my name in history as the first Omani woman to summit Mount Everest. Standing atop the world's tallest peak, I planted a piece of paper inscribed with Khalid's name, symbolizing our intertwined journeys. Accompanied by fellow Arab women, my triumph resonated with a sense of unity and empowerment. Shattering gender barriers, my accomplishment inspired a nation and opened doors for future generations.
My journey did not end with Everest. In 2021, I became the first Arab woman to summit Ama Dablam, a challenging peak in the Everest region. Through endurance sports and mountaineering, I continue to push boundaries, spreading a message of resilience and determination. My story has become a catalyst for change in Oman, inspiring women and men alike to pursue their dreams and embrace the beauty of outdoor sports.
My journey to Everest is a testament to the indomitable spirit that resides within each of us. From the depths of hidden dreams to the heights of accomplishment, my story exemplifies the power of determination, courage, and the unwavering pursuit of one's dreams. My triumphs serve as a beacon of inspiration, encouraging us all to believe in ourselves, embrace our passions, and reach for the summits that await us. May my story ignite the flames of possibility within each reader, forever reminding us that with unwavering dedication, dreams do come true.